Join Us
And become part of the fastest growing industry in the nation
Job Openings
Explore Opportunities
At Everlight Solar we focus on cultivating a work environment that enables people to do their best work, gain new skills, advance their careers, and be their best selves. Our goal is to ensure our employees are emotionally connected with our long-term vision while being productive in their everyday jobs.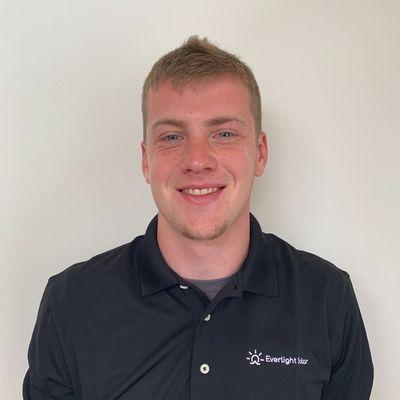 Working for Everlight as my first job post-graduation from UW has been incredible.  For starters, the company culture is exactly what I was looking for.  The executives not only preach striving for excellence, but follow through with it with their own company roles.  The hunger to become one of the largest and most successful solar companies is evident with every conversation I have with one of them.  Also, the culture isn't just focused on making money and growing; it's largely predicated upon creating meaningful relationships between employees.  I've met some of my closest friends working for Everlight.  From a financial perspective, Everlight has given me the ability to not only pay off the entirety of my student loans within three months, but also to be the master of my own income.  The old saying "you get what you put in" has become very evident within my 10 months here.  You truly have the ability to earn as much, or as little, as you want.  Overall, my experience at Everlight has exceeded my expectations and I can't wait to continue striving for my own personal excellence while also helping propel this company towards infinite growth.
The Salesforce Developer is expected to have strong technical skills and knowledge of Salesforce (Apex). The candidate will develop knowledge of Everlight's business workflow and processes and translate that knowledge into business solutions.
Entry Level
The Recruitment Assistant will use high communication skills to manage a variety of functions related to recruitment, including reporting to the hiring manager and coordinating communication between job applicants.
Entry Level
The Software Developer will aid in the innovation and creation of company software and programs, work alongside a team of programmers to code programs, and seek to facilitate the proper design and implementation of software.
iOS/ API
$60,000-$70,000/year
Entry Level
$22,000-$30,000/year
Entry Level
$30,000-$40,000/year
Entry Level
$60,000-$70,000/year
iOS/ API
$30,000-$40,000/year
Entry Level
$40-$55/hour
5+ Years Experience
$40-$50/hour
5+ Years Experience
$18-$20/hour
Experience Preferred
$80,000-$200,000/year
Full-Time
$60,000-$150,000/year
Entry Level
$100,000-$120,000/year
Journeyman License
$30,000-$40,000/year
Entry Level
$30,000-$40,000/year
Entry Level
$40-$50/hour
5+ Years Experience
$18-$20/hour
Experience Preferred
$80,000-$200,000/year
Full-Time
$60,000-$150,000/year
Entry Level
$80,000-$100,000/year
Journeyman License